PEOPLE
Angus Clark, PE
In 1999, Angus was half owner of the firm Fenner & Proffitt Inc. in Wilson NC, having purchased his share of the firm from its founders in 1988. He left the firm that year to become a solo practicioner focusing on private projects as opposed to the public work that Fenner & Proffitt was noted for. Since that time, growth of the firm has been purposely limited by the careful selection of quality clients and staff.
Angus has been a registered Professional Engineer since 1985. His experience encompasses a wide range of State Construction, military and commercial projects of all sizes. As a sampling of major projects, he is the electrical Engineer of Record for the North Carolina Aquariums at Fort Fisher and Roanoke Island and the Progress Energy Customer Service Center in Raleigh. He currently focuses on small to medium commercial projects. Angus is a member of ACEC, IESNA, and NFPA. He is past president of the eastern chapter of PENC. Angus received his BSEE from NC State University.
Chris Glover, LEED AP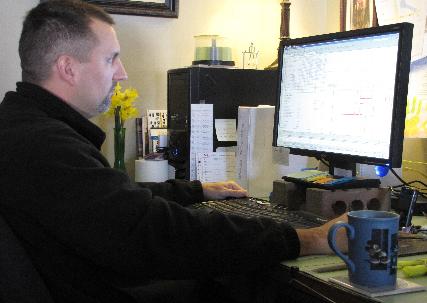 Chris joined the firm in 2008. He previously worked for fifteen years as a designer/project manager at The Wooten Company and at Fenner & Proffitt prior. Chris has twenty years experience designing electrical systems for a wide range of commercial projects. His experience includes project management, construction administration, and design for office buildings, libraries, schools, retail and places of worship. While at The Wooten Company, Chris was the electrical designer for over twenty Wake County Public Schools. Chris is a member of the Illuminating Engineering Society of North America (IESNA), has an AAS in Architecture, a BS and is a LEED Accredited Professional.